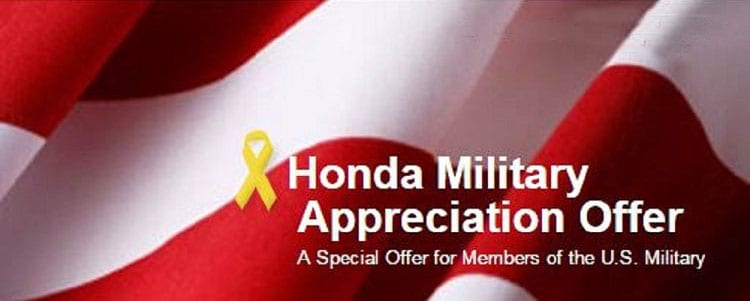 Here at Huntington Honda we're proud to be a participating dealership in the Honda Military Appreciation Offer. With this program, we honor members of the United States armed forces with a special rate and savings on the Honda manufactured vehicle of their choice.
If you qualify for this deal, you can get $500 towards any 2019 or newer Honda vehicle. You just have to agree to finance or lease the car through Honda Financial Services. More information about the program can be found here.
Who Qualifies?
The special military offer grants special savings to a number of eligible people, including:
Active Military members (and their spouses), including members of the Air Force, Marines, National Guard, Coast Guard, Army, and Navy
Retired military (and their spouses)
Ready Reserve military (and their spouses)
U.S. Veterans (and their spouses) within 180 days of completing active duty
What You Need
To claim your Military Appreciation Offer, you and your spouse would just need to prove eligibility with proof of military status. To do so, Huntington Honda accepts two forms of identification:
The military personnel's Leave and Earnings Statement (LES)
For spouses: the military member's LES and military I.D.
This offer expires on March 31, 2021, so don't wait until the last minute to take advantage of it. Visit us at 1055 East Jericho Turnpike in Huntington or call (877) 392-4749 for more information.
We have a huge selection of brand new Honda cars for you to choose from. Our new inventory includes hundreds of cars from hatchbacks to sedans to pickup trucks, so there's sure to be something to please everyone.
One $500 Military Appreciation Certificate per vehicle. Applied towards down payment. The certificate can be combined with all other Honda Financial Services programs, except Zero Due at Signing Lease program. Offer valid through March 31, 2021 unless terminated earlier by HFS.
NOTE: During the term of the retail installment finance contract or lease with Honda Financial Services, buyer may not take their vehicle outside the United States without the prior written consent of Honda Financial Services. During the term of the retail installment finance contract or lease, buyer must notify Honda Financial Services immediately of any change in the buyer's address.
Make an Inquiry
Hours
Monday

9:00am - 9:00pm

Tuesday

9:00am - 9:00pm

Wednesday

9:00am - 9:00pm

Thursday

9:00am - 9:00pm

Friday

9:00am - 9:00pm

Saturday

9:00am - 6:00pm

Sunday

11:00am - 5:00pm