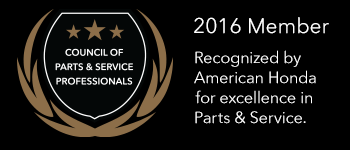 2016 was a banner year for our Huntington, NY Honda dealership here at 1055 E. Jericho Turnpike.
American Honda Motor Co. has recognized our dedication to the comprehensive Honda vehicle experience by giving us the privileged status of inaugural member in its prestigious Council of Parts & Service Professionals.
Out of the more than 1,000 Honda dealerships nationwide, we became one of only 150 to receive the award for the "consistent delivery of outstanding customer experiences and [the] demonstration of superiority in the areas of parts and service," to quote Bruce Smith, Senior Vice President of Parts, Service, and Technical Division for Honda.
So, needless to say, we're humbled. After all, it's the extensive knowledge base, the drive, and most of all the pride that our certified and highly qualified auto technicians take in their work that makes it all possible. Drivers from Huntington, NY and nearby have come to rely on our team for diverse car upkeep needs, from regular service to discretionary maintenance and repair, and we perform it with the utmost care using only genuine Honda-approved parts. We even make it both our business and our calling to go the extra mile to help you find the parts you need for your DIY job via our convenient online Parts Request form.
So when your Honda or off-brand vehicle requires service that excels and the high-quality parts to make it happen with distinction, you're welcome to get in touch with us here at Huntington Honda. Feel free to call our friendly Service Department personnel at (877) 484-8973 or our gurus of all things parts and accessories at (877) 486-6199. You can even schedule regular or express service here on our website, or stop by in person for a consult. We look forward to helping you keep your road warrior in performance shape!